Meet the World of Building Greening in Berlin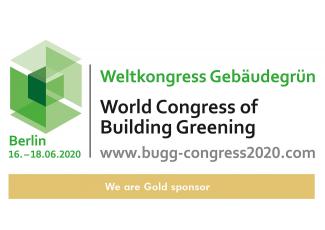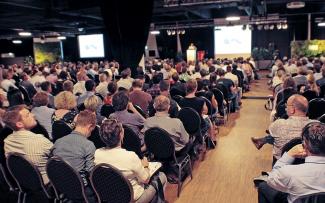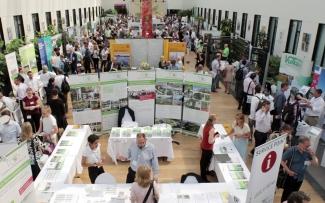 World Congress of Building Green – June 16th–18th, 2020 in Berlin
After the great success in 2017 with over 800 participants, the World Congress of Greening Building 2020 will once again take place in Berlin.
Interested parties from all over the world will be at the congress from June 16–18, 2020. At the congress, you will be able to listen to international experts in greening roofs, facades and interiors at around 100 presentations  held  at five parallel series of lectures, enabling exchanging ideas with other participants.
The omnipresent climate change and its associated climate adaptation strategies, increasing expectations of sustainable building, rainwater management, but also the preservation of biological diversity, funding opportunities and cost-benefit equation/ considerations will for two days be the subject of the congress at the Mercure Hotel MOA in Berlin. One of the top speakers will be the world's most famous façade and wall gardener, Patrick Blanc from France.
Main topics
City strategies (City dialogue, subsidies, water- and climate sensitive urban development, urban resilience and cities of the future)
Sustainability (Ecological concepts, sustainability in city development, economic and social points of view)
Health (Climate adaption, quality of life, air quality, fine dust and nitrogen oxide bonding)
Biodiversity (Biological Diversity, selection of plants, species and insects protection)
Market (Data, potential analysis and Green Roof Index)
Politics (Attitude and Impact on politics regarding Building Greening in Germany, Europe and the World)
Rainwater management (blue-green infrastructure, flood precaution and retention roofs)
Built examples (Best Practice, industrial and residential, high-rise greening, urban farming)
Technology (Basics, high tech solutions, innovations and monitoring)
The objectives of the congress
In addition to knowledge transfer and the demonstration of best practice examples by experts, it is also about the exchange of experiences and the network building between the participants from planning, politics, cities, urban water management, industry, real estate and associations. The congress will be translated simultaneously into German and English. The third day of the congress is dedicated to excursions to various projects in Berlin.
Organizers, partners and patronage
The congress is organized by the Bundesverband GebäudeGrün e.V., accompanied by the World and European associations (WGIN and EFB) and the two partner associations from Austria (VfB) and Switzerland (SFG).The exclusive congress partner of the World Congress of Building Greening 2020 is Nürnberg Messe.
The patronage is provided by Federal Minister Horst Seehofer (Federal Ministry of the Interior, Construction and Home), Federal Minister Svenja Schulze (Federal Ministry for the Environment, Nature Conservation and Nuclear Safety) and Senator Katrin Lompscher (Berlin Senate Department for Urban Development and Housing).
The Senate Department for Urban Development and Housing also supports the professional and organizational preparation of the congress. The World Congress is also funded by the Federal Institute for Building, Urban and Regional Studies (BBSR).
More Information and registration