tubesolar cooperates with ZinCo in the field of Green Building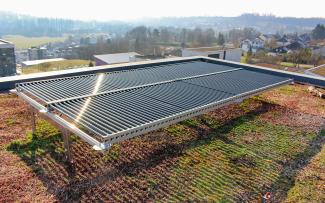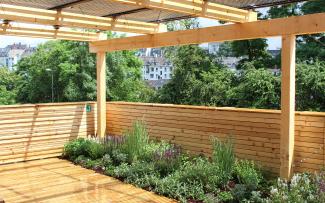 Agri-PV manufacturer tubesolar AG (ISIN DE000A2PXQD4) signs a strategic partnership with ZinCo GmbH, one of the world's leading companies for extensive and intensive green roofs, based in Nürtingen. This means that the innovative solar modules from the Augsburg-based tech company will also be increasingly used in the green building sector in the future. ZinCo customers will have access to tubesolar's innovative and globally unique product.
Interest in green building has been growing rapidly for years. New buildings are to be increasingly self-sufficient, space-saving and, above all, climate-friendly, without having to forego comfort and quality of life. In the course of the green building boom, green roofs in combination with solar systems are becoming increasingly important. This trend is additionally fueled by the introduction of so-called solar obligations, which have been legally binding in many German states since 2023. These stipulate that solar systems must be installed in new buildings and roof renovations of private and commercial buildings in order to meet climate protection requirements. For example, the climate protection law of Baden-Württemberg points out "...to harmonize a public law obligation for roof greening ... as best as possible with the respective obligation to install a photovoltaic system." Therefore, with the Agri-PV manufacturer tubesolar and the expert for green roofs ZinCo, two specialists now combine their know-how and thus create completely new possibilities in roof design.
ZinCo's portfolio ranges from greened large-scale roofs to park-like planted underground parking garage roofs to complete roof garden systems. Solar elements are also used in many cases, but the classic PV flat modules limit the areas available for green roofs. "By incorporating tubesolar's tubular PV solar modules, we can offer completely new application concepts for our customers and provide roof areas with a dual use - ecological green roof with simultaneous power generation on the same areas," explains Dieter Schenk, Managing Director at ZinCo.
tubesolar is also looking forward to the future cooperation. "The topic of green building is becoming increasingly relevant worldwide, available space is to be used more efficiently and the buildings are to function as self-sufficiently and environmentally friendly as possible. With our innovative PV modules, we will make an important contribution to this," says Felix Mantke, CFO of tubesolar.
tubesolar's innovative, tubular solar modules have already proven their great benefits in agriculture. Unlike conventional solar systems with PV flat modules, they are permeable to light and rainwater, and the areas covered by the PV modules are still available for cultivating a wide variety of agricultural goods. The light semi-shade also reduces the need for water in crop cultivation. However, tubesolar's solar modules not only show their advantages in the agricultural sector, but also in the green building sector. Through the partnership with ZinCo, this business area is now being further expanded.
Further information on tubesolar's innovative solar modules and extensive image material are available on the homepage at www.tubesolar.de.
About tubesolar AG
tubesolar AG has taken over the laboratory production of OSRAM/LEDVANCE in Augsburg as a spin-off and acquired the patents from LEDVANCE and Dr. Vesselinka Petrova-Koch. tubesolar AG has been using this patent-protected technology since 2019 to develop and manufacture photovoltaic thin-film tubes that are joined together to form modules and whose properties enable additional application opportunities in solar power generation compared to conventional solar modules. The technology will be used in the agricultural sector, among others, and will span agricultural production areas. The modules are also to be used on industrial and commercial roofs. In the next few years, it is planned to expand production in Augsburg to an annual production capacity of 250 MW.