Working on a roof, safe for everyone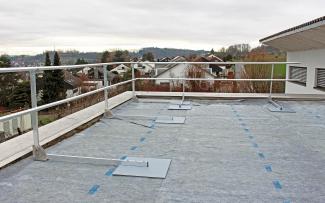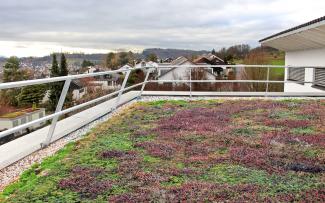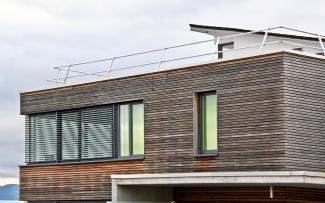 Fallnet® Safety Railing ASG
A workplace at height on a roof should provide not only a wonderful view but above all safety, as no-one should be able to fall off it.
Everything is fine during the construction phase of the building as the scaffolding provides protection for all works. However, once the scaffolding has been removed, proper fall protection measures have to be implemented for all subsequent works on the roof. Every flat roof has to be accessed for maintenance purposes, even if the roof is only covered in gravel.
Given that a flat roof justifiably and happily enjoys considerable status as an area that is put to meaningful use, there is a lot going on up there!
It may be a green roof that has to be accessed once or twice a year for maintenance purposes, which, as it happens, is not more frequent than a gravel roof. In addition, roofs are now often used for the installation of ventilation, air-conditioning, photovoltaic or transmission equipment, which automatically means maintenance work. In this way, the roof becomes a workplace (for the inexperienced too) involving occupational safety measures.
Experience shows that, in practice, single anchor points are hardly ever used for fall arrest systems and that the trend, therefore, is clearly towards collective protection systems. With its new Fallnet® Safety Railing ASG, ZinCo is offering permanent protection for everyone. The safety railing made of aluminium is easily and quickly installed and does not require roof penetration.
Installation involves laying the upright posts of the railing structure onto the protective layer at intervals of max. 2.60 m. Once the railing posts have been folded out, the railing tubes are fitted to them. Corner brackets are used to fix the railing over corners, where applicable. The ballast load from the subsequent green roof build-up (drainage, substrate and plant layers) holds the railing in place, as required. The weight of a "normal" extensive green roof is generally sufficient (80 kg/m² dry weight) in this case. The system can be easily adapted to suit the roof conditions. The special feature of the Fallnet® Safety Railing ASG is that it can be installed in a vertical position or sloped at an angle of 67.5 °, without going below the required minimum railing height of 1.00 m. This inclined position creates a visually pleasing roof finish. Depending on the viewing angle, the railing may not be visible from below, a clear advantage for the aesthetics of the building.
The Fallnet® Safety Railing ASG which has been tested and certified by Dekra, therefore, offers life-saving safety, at all times and for everyone on the roof.