Pitched Green Roofs up to 25°
Pitched Green Roofs
up to 25° –

How to Prevent Erosion and Transfer Shear Forces Safely

According to general regulations for roofs with waterproofing, flat roofs should have a fall of at least 2 %. Pitched roofs start with a slope of 10° (18 %). From 10° on, the green roof system build-up differs significantly from system build-ups below 10°. Shear forces increase with the roof slope and have to be transfered into stable beams. The substrate layer has to be protected against erosion. Plant selection and planting methods are to be adjusted to the relevant slope and exposure.

A professionally waterproofed roof surface, e.g. with bituminous or highpolymer membranes, is a precondition for a durable long-lasting green roof. The waterproofing should be root resistant and a protection mat with high water storage is needed. Floraset® FS 75, a multi-functional drainage element of expanded polystyrene is the perfect element for pitched green roofs.

It is very important to take the green roof upkeep and maintenance aspects into account from the early planning stage of the project on. Skylights can be installed as access for the maintenance personnel.
System build-up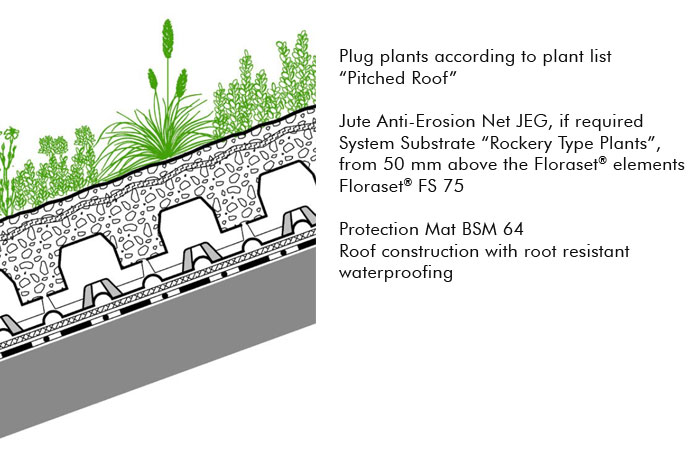 Technical Data
Build-up height
ca. 130–150 mm
Weight, saturated
ca. 105–135 kg/m²
Water retention capacity
ca. 38–44 l/m²