Parklands on Rooftops and Underground Garage Decks
The "Roof Garden" system can also be installed on underground garage decks. Yet, due to the good accessibility and high load bearing capacity of the roof and building construction, it is more practical to use a stable and safe green roof system allowing for vehicular access. This is very useful especially when applying the growing media.
The heavy duty ZinCo Protectodrain® was specifically engineered to be applied on the roof of underground parking garages. It is designed to withstand heavy loads and dynamic forces and is a perfect base for a variety of walkways and driveways. Numerous possibilities exist and include anything from car parks, fire access roads, playgrounds to reinforced lawn and stone paving.
Protectodrain® drainage elements with a rubber protection mat on the underside safeguard the waterproofing against all sorts of mechanical stress during construction and afterwards. At the same time, they ensure a safe drainage of any excess water. Combined with Zincolit® and the various ZinCo system substrates, this system offers a wide variety of possibilities for planting and design.
System build-up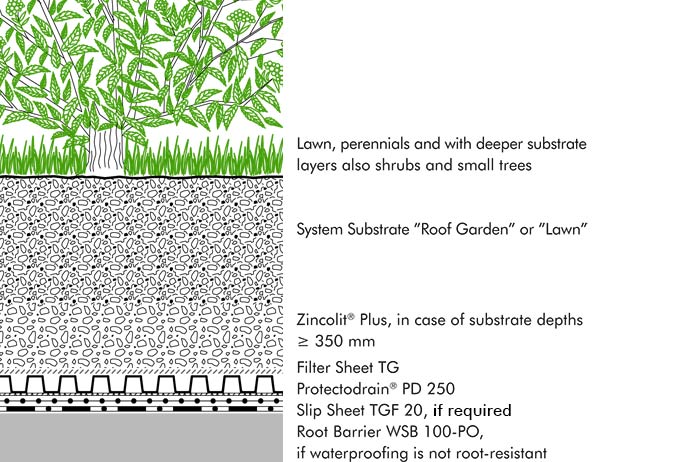 Technical Data
Build-up height
from 230 mm
Weight, saturated
from 305 kg/m²
Water retention capacity
from 100 l/m²