Green Roof System Build-up "natureline" – with Elements from Renewable Raw Materials
Thanks to bioplastics, the drainage element in this system green roof build-up is produced mainly using sugar cane, the most efficient and largest capacity sugar plant worldwide. The process energy required to convert sugar to plastic is also drawn to a great extent from biomass. Sugar cane is grown in line with strict statutory requirements that take into consideration both social and environmental standards and the protection of nature (recognised as per EU biofuel regulation). The raw material is farmed and processed in the Federal State of Sao Paolo, about 2,000 km from the Amazon rainforest.
In combination with the roof substrate Zincolit®, a pure recycled product, this system build-up sets new standards in terms of ecology.
ZinCo developed the idea of a green roof system based on renewable raw materials together with Tecnaro GmbH, a pioneer in the field of biobased materials. Tecnaro GmbH has been very successful in the field of bioplastics since 1998 and at the Hannover Trade Fair in April was awarded the international GREEN BRAND Germany, among other things for the materials group ARBOBLEND. One type of material from this group was developed specifically for use with thermoformed applications such as drainage elements and it shows properties that are comparable with those of conventional polyethylene. With Tecnaro, ZinCo has found a partner who shares a common approach in terms of the requirements of quality and environmental sustainability.
It goes without saying that all parameters required for the application of a specific product are adhered to, which ensures the permanent reliability of the system build-up.
System build-up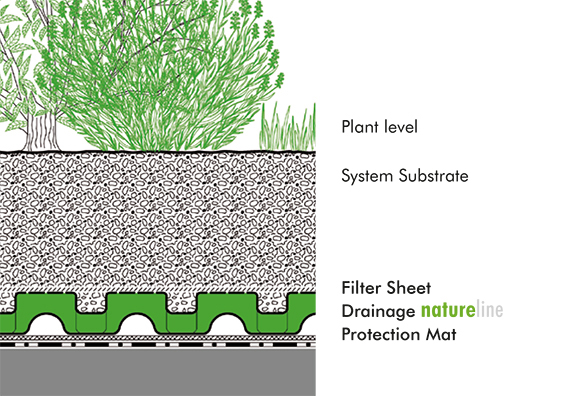 Technical Data
Build-up height
from 270 mm
Weight, saturated
from 340 kg/m²
Water retention capacity
from 110 l/m²