ZinCo Systems for Extensive and Intensive Landscaped Roofs
When designing and installing a green roof, it is important to provide a growing environment as close as possible to the plant's natural environment. The most important factor is to compensate for the lack of subsoil. Each layer of a ZinCo green roof build-up is conceived to take over the relevant functions of the missing ground. A durable plant coverage is guaranteed.
Basic types of green roofs
Extensive landscaped roofs are an ecological alternative to conventional surface protection or ballast layers such as gravel and pavers. They are lightweight and have a shallow build-up height. Suitable plants include various sedum species, herbs and some grasses. They cope with the conditions on the roof (sun, wind, drought, etc.) by nature. After establishment of the vegetation, the maintenance is limited to one or two inspections a year.
Intensive green roofs can most easily be compared to building a garden on a roof. They are usually multifunctional and accessible. They require more weight and a deeper system build-up. The maintenance is regular and depends on the landscape design and the chosen plant material. Depending on the substrate depth, anything is possible from lawns, perennials, shrubs, trees including other landscape options such as ponds, pergolas, patios, walkways and driveways. For all these kinds of use ZinCo provides well-engineered longlasting and functioning systems.
Additional systems
ZinCo is leading in the development of tried and tested fall protection systems on roofs that do not require the roof membrane to be penetrated as well as solutions for combining solar energy plants with green roofs. Elaborate system build-ups focus on rainwater management and counteracting Urban Heat Island effects.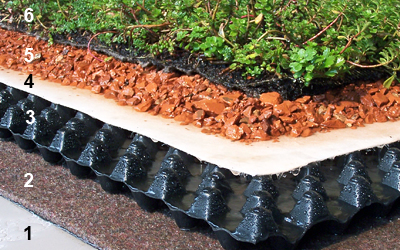 1. Root Barrier
Protects the waterproofing of the roof from penetration by plant roots.
2. Moisture Retention / Protection Mat
Protects the root barrier from mechanical damage, as well as retaining water and nutrients.
3. Drainage Layer
Retains rainwater in troughs on the upperside, whilst the surplus water is safely drained away. Necessary ventilation to the root area is also guaranteed.
4. Filter Sheet
Prevents fine particles from being washed out of the substrate soil, thereby ensuring the efficiency of the drainage layer.
5. Growing Layer
Consists of ZinCo System Substrate, the perfect growing medium. It suits the needs of the green roof vegetation and provides for a stable growing environment.
6. Plant Level
Varieties of plants selected according to climate, landscape design, load bearing capacity and desired benefits to building owners and communities.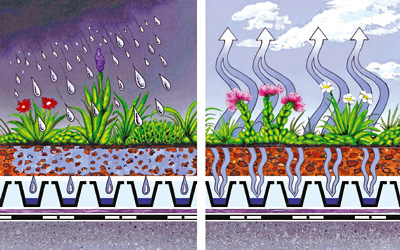 Provides Rainwater Management
Depending on the green roof design, the immediate water run-off can be reduced by 50–90 %, greatly reducing drainage flow rates. This enables the rainwater management system to be reduced in capacity, thereby greatly reducing construction costs.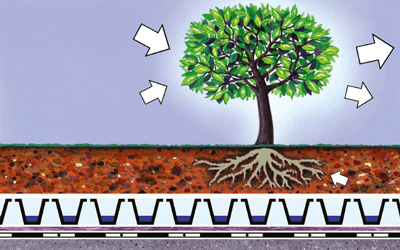 Improves the Microclimate
Green roofs cool and humidify the surrounding air. Thus, they create a beneficial microclimate within their immediate area and contribute to improving the microclimate in urban centres. Coordinated urban green roof development can significantly reduce the so-called "Heat Island" effect.
Binds Dust and Toxic Particles
Green roof vegetation helps to filter out dust and smog particles. Nitrates and other harmful materials are absorbed by the plants out of the air and rainfall and bound within the substrate.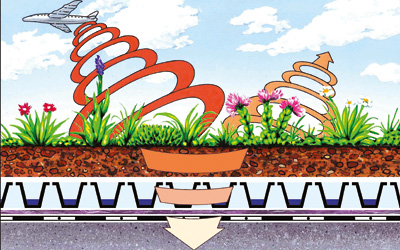 Improves Noise Protection
Planted areas are natural sound insulators and absorb more sound than hard surfaces. Green roofs reduce reflective sound by up to 3 dB and improve sound insulation by up to 8 dB. This is very effective for buildings near airports, noisy nightclubs and factories.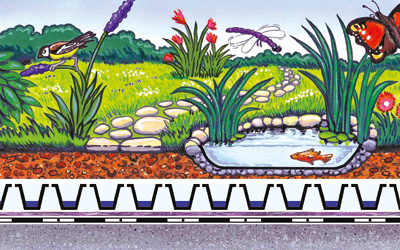 Provides Natural Biodiverse Habitats
Landscaped roofs compensate for green spaces, which are lost to building development. They provide natural habitats for wildlife and bring nature back into the cities.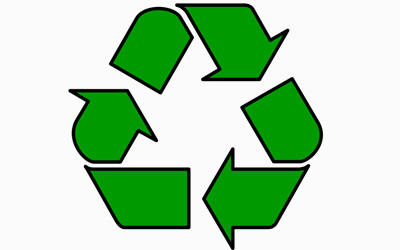 Supports Recycling
Green roofs make extensive use of recycled and recyclable products, saving further valuable resources. Rubber, polyethylene and expanded polystyrene rigid foam are used in the production of drainage elements. The mono clay material Zincolit® and humus are the basis for the production of ZinCo rooftop garden system soils. The most important criterion is the quality of the product, which is tested by recognised institutes and research bodies.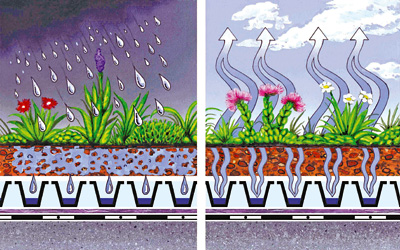 Increases Water Retention
A green roof can reduce water run-off by 50–90 %; any remaining water flows from the roof with a delay. Outlets, pipes and drains can be reduced in capacity, thereby saving construction costs. Sewer costs can be reduced in some areas.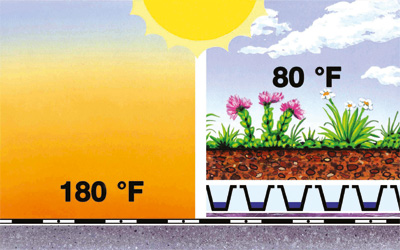 Reduces Renovation Costs
A green roof protects the waterproofing from climate extremes, UV exposure and mechanical damage. This greatly increases the life expectancy of the waterproofing and results in reduced maintenance and replacement costs.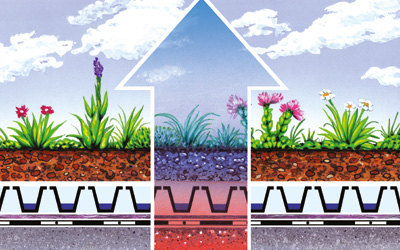 Reduces Energy Costs
A green roof has the ability to buffer temperature extremes and improve the buildings energy performance.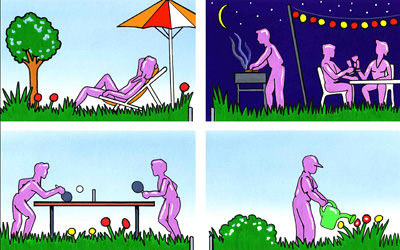 Provides Additional Space
Converting or designing normally unused areas into green roofs, particularly for recreational or sporting use not only makes use of expensive space, but saves the costs of purchasing additional land. Green roofs often assist in gaining planning consent.