Roof garden with Aquafleece
Roof Garden with Aquafleece – for Roofs with a Limited Load Bearing Capacity
Up to now, light-weight solutions were only possible in the field of extensive green roofs. However, with the system build-up "Roof Garden" with Aquafleece the balancing act between "light-weight" and "intensive" can easily be mastered. It allows for visually appealing prestigious designs with lawn, perennials and small shrubs even on roofs with a low load bearing capacity. The system build-up is applicable on 0°-roofs and on roofs with an slight inclination of up to ca. 8°.
Sophisticated irrigation concept
Irrigation is carried out with special dripperlines. They are attached to the Aquafleece AF 300 with a hook & loop tape at intervals of 500 mm and fed with the required amount of water via an automatic irrigation control unit. Due to the fact that Aquafleece AF 300 distributes the water evenly and supplies it to the plants from below, the water consumption is relatively low.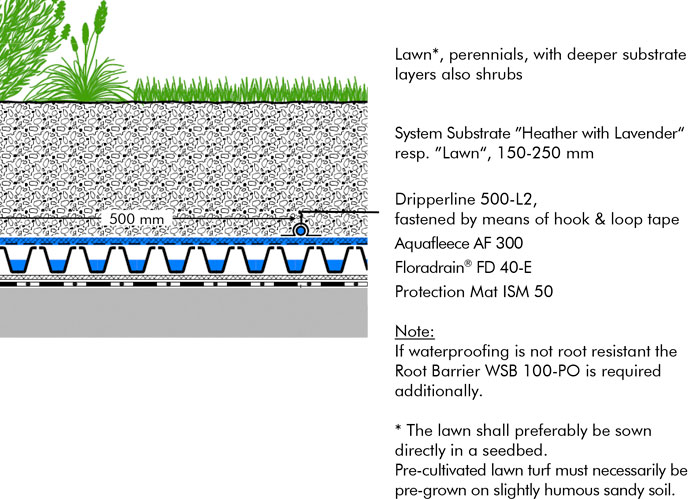 Technical Data
Build-up height
from ca. 200 mm
Weight, saturated
from ca. 230 kg/m²
Water retention capacity
from ca. 80 l/m²