Steep Pitched Green Roofs up to 35°
Steep Pitched Green Roofs up to 35° – ZinCo Georaster® Elements Transfer High Shear Forces into the Roof Structure
The system build-up "Steep Pitched Green Roof", based on the ZinCo Georaster® elements, enables the installation of green roofs with slopes exceeding 20° and up to 35°. Above 35° special solutions can be designed by the ZinCo engineers.
The Georaster® elements are made of recycled polyethylene (HD-PE) and interlock without requiring tools, creating a stable structure. This structure is safely accessible and can be infilled with system substrate. The Georaster® elements cater for plenty of space for the plant root systems to establish and develop. The plant selection has to be well adapted to the extreme conditions of steep pitched green roofs, where the solar radiation is the highest on the south facing roof side and the water run off is much faster compared to a flat roof. The irrigation should be planned for, even if it is only needed in times of drought. It can avoid gaps in the vegetation coverage, which would lead to erosion. A transfer of existing shear forces into stable eaves and into additional shear barriers is necessary.
Georaster® elements can also be installed under reinforced lawns, footway constructions, in slope protection, etc.
System build-up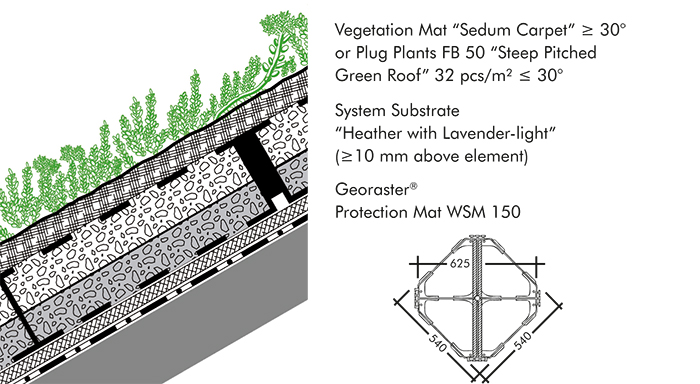 Technical Data
Build-up height
ca. 120 mm
Weight, saturated
ca. 155 kg/m²
Water retention capacity
ca. 64 l/m²