System Build-up "Urban Rooftop Farming" – Proven Drainage Technology for Growing Vegetables and Fruits on Roofs
The number of densely populated urban centres is increasing. More than half of the world's population now lives in towns or cities, where undeveloped or green spaces are seldom to be found. Green roofs, as a counterbalance to this, have made the breakthrough in such densely-populated areas.
It comes as no surprise¸ therefore, that roof areas are used for the production of fruits, vegetables and herbs.
The fresher the better!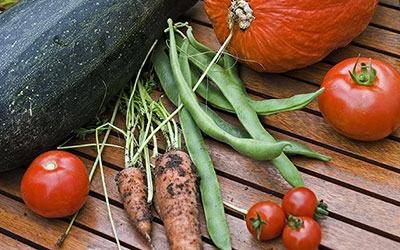 A vegetable garden on the roof offers many environmental benefits. Supply routes and emissions are minimized, as the garden is close to the consumers. Short supply routes also mean that the goods are fresher when delivered and, therefore, tastier. And, the plants filter pollutants from the air, thereby contributing to an improved climate in towns and cities.
System build-up
However, in order for market gardening to actually work in an extreme location such as a roof, all relevant factors must be taken into consideration. ZinCo has, therefore, developed the system build-up "Urban Rooftop Farming" as a permanent reliable solution. The drainage element Floradrain® FD 60 neo is at the heart of this build-up.
With 20 cm ZinCo System Substrate, this build-up is suitable for fruit and vegetables such as lettuce, onions, herbs, zucchini, eggplant, squash, cabbage, melons, strawberries and such like.
For vegetables and fruits such as tomatoes, green beans, raspberries, blackberries, currants and such like a substrate depth of 28 to 40 cm is recommended.
The amount of fertilizer and irrigation depends on the requirements of the cultivated vegetable species and on local climate conditions. The use of an organic fertilizer is recommended. To minimize the impact on the runoff avoid overfertilizing. The specific requirements of a roof location (e.g. wind, structural requirements, water run-off) must be observed when planning.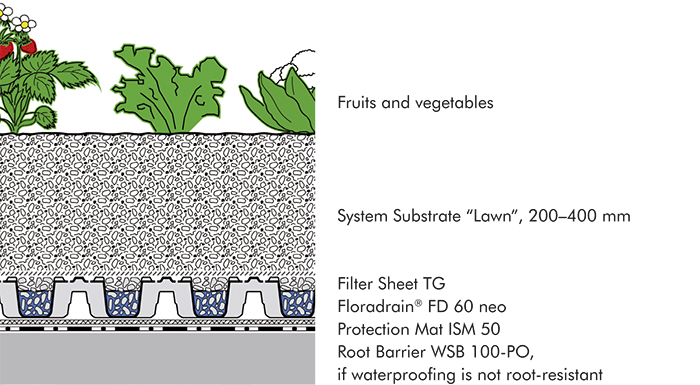 Safety on rooftops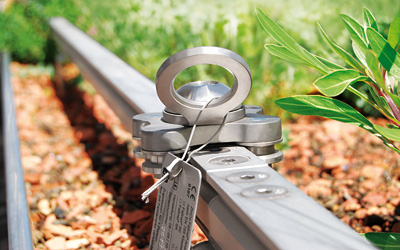 When working on rooftops personal safety equipment is to be used wherever risks cannot be avoided. ZinCo provides various safety systems and railings which do not penetrate the roof covering.
Technical Data
Build-up height
from 250 mm
Weight, saturated
from 300 kg/m²
Water retention capacity
from 100 l/m²