Extensive Green Roof "Sedum Carpet" – The Proven Ecological Protective Layer
The "Sedum Carpet" is a standard build-up for extensive green roofs. It is a shallow and lightweight green roof type with an attractive "back-to-nature" appearance, that requires little maintenance.
Floradrain® FD 25-E is the appropriate drainage and waterstorage element for this system. It has the necessary compressive strength, a low profile height, little weight and is walkable. Proven sedum species, in combination with the adapted substrate and system build-up, guarantee a durable green roof. The system substrate "Sedum Carpet" is particularly suitable for extensive green roofs as well as the plant community "Sedum Carpet", containing various low-growing sedum species that are wind- and frost-resistant.
The main blooming time is early summer with yellow, red and white flowers dominating. During the year, "Sedum Carpet" is represented in various shades of green. Red shades show particularly in autumn and are a nice change in the green roof´s appearance.
Sedum cuttings are produced by cutting off the shoot tips of selected types of sedum. This is only possible during the non-flowering period (spring or autumn), as flowering shoots do not easily grow roots. With sedum cuttings, good ground cover is achieved within 2–3 years. A faster ground coverage is achieved with plug planting.
System build-up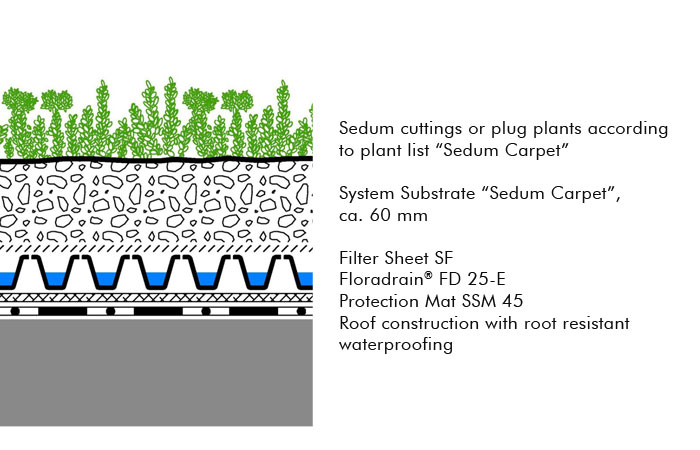 Notes: 
* The weight values stated above are considered to be exclusive of vegetation, see Info Sheet "Green Roof Ballast".
Technical Data
Build-up height
ca. 90 mm
Weight, saturated
ca. 95 kg/m² *
Water retention capacity
ca. 25 l/m²