Anchoring Trees Securely on Roofs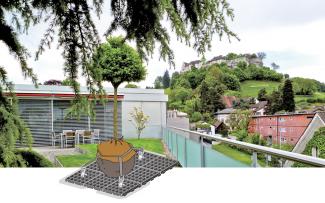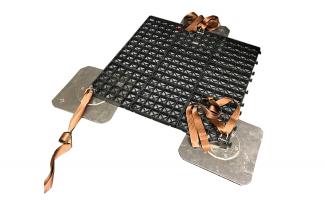 Trees are increasingly used as an architectural design feature in the landscaping of roofs and podium decks. The selection of suitable tree species, adequate roof substrate and, above all, the local site conditions with regard to wind pressure and wind suction are essential. Steel grids are often used to anchor trees on rooftops by securing the root balls to the grid with tension straps. However, the sharp edges of these steel grids can damage the waterproofing. This can be avoided by using the new ZinCo Robafix® tree anchorage system.
The well-known and proven grid elements, used in the ZinCo Fall protection systems Fallnet® serve as a basis for the tree anchoring system. This clip together grid system is placed on top of the three anchor plates which finally serve as fixing points for the tension straps. The whole grid is then ballasted by the green roof substrate. Since the anchor plates can be positioned anywhere under the approx. 1 × 1 m grid element, the system allows for individual adaptation to the root ball diameter and, at the same time, prevents a contraction of the anchor points. The root ball is permanently stabilized and pulling the tree out of the substrate becomes impossible.
Robafix® is layed directly onto the protection mat or the filter sheet of the green roof build-up and is suitable for roofs with a pitch of up to 5°.
Robafix® is a perfectly simple solution for tree anchoring based on proven technology, and always ballasted according to the principle "no penetration of the roof waterproofing".