Roof Garden – The Ideal  Multifunctional Build-up for Soft and Hard Landscaping on Rooftops
The "Roof Garden" green roof system is a multifunctional green roof build-up with high water storage. It allows for the realisation of a variety of design concepts, even waterfeatures. It is suitable for lawns, perennials, and with deeper system substrate, for shrubs and trees. Integration with hard landscapes, for example, walkways, terraces, driveways or play areas, etc. is also possible.
Within the roof rarden, it is useful to store as much rainwater as possible to reduce the need for additional watering. The Floradrain® FD 60 neo drainage element allows very high water retention suitable for all aspects of diverse roof gardens. The water is stored across the roof area and reaches the plants by capillary action and diffusion. Water storage and irrigation from underneath, a so-called dam up irrigation can also be easily achieved by installing roof dam elements above the roof outlets. A roof laid at 0° fall is required to include this feature, along with a suitable waterproofing membrane. Inspection chambers allow for examination and maintenance of the roof dam elements at any time. With automatic irrigation machines, the water level of the dam up irrigation can be maintained even in periods of drought.
Floradrain® FD 60 neo can also be used as a shuttering for concrete to create foundations for supporting structures without penetrating the roof membrane or impeding water drainage. The drainage capacity is tested according to EN ISO 12598.
System build-up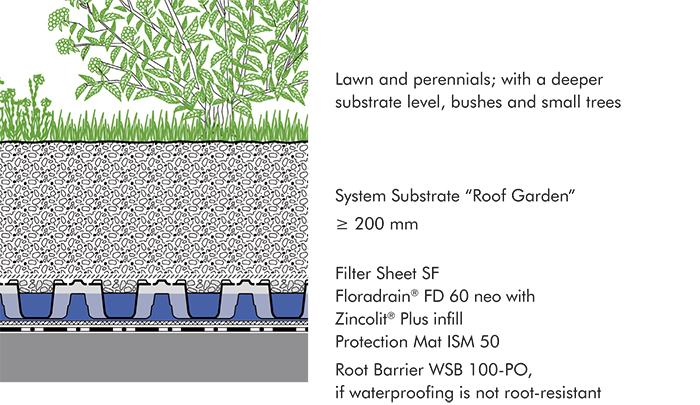 Notes: 
* The weight values stated above are considered to be exclusive of vegetation, see Info Sheet "Green Roof Ballast".
Technical Data
Build-up height
from 270 mm
Weight, saturated
from 365 kg/m² *
Water retention capacity
from 135 l/m²